HICKORY HILL NEWSLETTER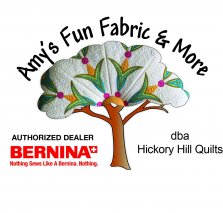 HAPPY SEPTEMBER & LABOR DAY!
WE ARE CLOSED TODAY - BUTTT!!!
In celebration of Bernina's 125th Anniversary
Hickory Hill Quilts is going to have a little fun!

OUR FIRST QUILT CHALLENGE!
It begins TOMORROW, Tuesday 9/4.
Creation period runs through the end of November. All contributions must be turned in by 11/30. (Any time during that period.)
We will exhibit all quilts 12/3 – 12/14 giving everyone two weeks to come in, see the exhibit and vote for people's choice!
We will have a Christmas party at HHQ (date TBD) to reveal the winners!!!
What's In It For Me!
Everyone who enters the contest will get a 25% off coupon any single item or cut once their quilt is turned in for judging. (Excluding Machines/Furniture)
1st Place is a $350 gift certificate at the shop.
2nd Place is $250 gift certificate at the shop.
3rd Place is $100 gift certificate at the shop.
Rules:
There is no entry fee; however, all participants must purchase a minimum of 2 yards of fabric from the shop to enter. (10% off Jubilee Fabric for this effort.)
The Jubilee Collection Fabrics must be highlighted in the quilt. They are on our web site for on line sales under Fabric All - Bernina Jubilee.
All participants must complete a lap quilt (approximately 60X60 or total l+w=120") or larger for judging and return it to the shop prior to 11/30.
Other fabrics can be introduced into the quilt, but focally – it's all about the Jubilee and Bernina's 125th Celebration.
Let's Have Some Fun!
This is my first challenge – so any comments and suggestions are welcome!
501-318-2739