Skip Navigation
Website Accessibility
Finishing With Some Fun!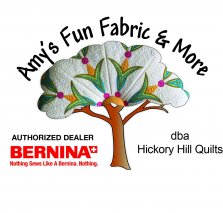 HOLIDAY FABRIC 20% OFF TO EOY!
Promotions-Sales
BERNINA & HICKORY HILL TEAM UP!!!
Bernina has multiple overlapping holiday promotions - so plan your shopping wisely!
Now thru 12/31:
The Anniversary Bundles are still for sale till they run out. The 880's are so low in availability we would have to coordinate a dealer swap to get one quickly if Santa has one on your Christmas list! The Anniversary Edition of the 790 still has some openings. 770's are sold out. I have one left. Get them while they last! I've added a holiday shopping spree from Hickory Hill!

Purchase a 5 Series, Get the Koala Sewing Station for $499

E-16 (Embroidery 16 Needle) - Get Free Bernina Software 8.1 Bundle

Bernette Sew-N-Go $125

25% off Accessories: thru 11/30 Magnifying Lens Set; 12/1-31 Multi Spool Holder!

Financing: 0% for 48 Months for purchases greater than $3,000
Limited time: 12/5-10 60 month 0% for purchases greater than $3,000
11/27 - 12/10 $500 off MSRP on a 500 series; $700 off MSRP on a 700 series; $800 off an 800 series (Truthfully HHQ has all our machines priced to better all the Bernina offers! Come see us for a great deal!)
12/18-31 25% off Feet, Hoops & Software!


CALENDAR - TO END OF YEAR
11/27 – Open Sew & Pot Luck Day! Ham & Trimmings!

11/30 - ALL QUILT CHALLENGE QUILTS ARE DUE BY END OF DAY (I only have 1 so far!)

12/1 – Mastery Workbook #2

12/4 & 11 – Spicy Spiral Table Runner with Bonnie Kastler (The class currently has 3 enrolled and will make)

12/11 - NOTE OPEN SEW AND POST LUCK MOVED TO 12/18 DUE TO CLASS SCHEDULE.
12/7 – Judy Niemeyer Sew Day with Judy Bowers (The class currently has 3 enrolled and will make)
12/8 – Happy Hollow Wreath with Amy Hoyt (Only 1 enrolled, please sign up if you are thinking of taking the class so it can make!)

12/14 - Beginner Free Motion Quilting with Westalee Rulers by Michelle Jones (None enrolled)

12/15 - Open Sew & Pot Luck Day! Moved from 12/11 to make room for the second day of the table runner class. Pizza Day!

12/15 - HHQ CHRISTMAS PARTY AND QUILT CHALLENGE REVEALING

12/18 – No Embroidery Training

12/14 - 12/31 - HICKORY HILL IS CLOSED FOR CHRISTMAS AND INVENTORY! See you 1/2/2019!
Other News
We have some fabulous fabrics arriving this week from market! We also have the long awaited collection from Jason Yenter, Diaphanous, in route to the store! I am so excited for you to see the new collections. The 2019 calendar and our community services Block of the Month of children in long-term care will be announced shortly! We hope everyone will sign up for this great cause!
HELPFUL HINTS!
This is our web page link! Go to the Calendar Header and you will find the calendar month by month. Underneath it on the right is a printer button. It can be printed!
On the newsletter tab you can now go to all archived newsletters and read past issues – in case you missed them
COME SEE US AT HICKORY HILL