HAPPY NEW YEAR!!!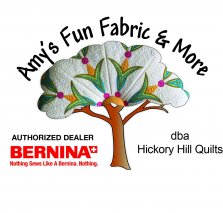 EXCITED FOR A WONDERFUL 2019!!!
CLOSED FOR THE HOLIDAYS & INVENTORY
THROUGH JANUARY 1
1Q19 CLASSES ARE ON THE CALENDAR!!!
NEW CLUBS AND CLASSES ABOUND FOR 2019!!!

Many people have asked for SERGER CLASSES - and we are finally ready for them. The first organizational meeting/class of the HHQ Serger Club will be Saturday, January 19 at 12:30 pm. This will be a hands-on project, as well as a discussion of what we want to do going forward. The project will be a burrito-style pillowcase completely made with your serger. We will be kitting it in a Valentine's Day theme, so you will be ready for that holiday in advance! Cost will be $20, which will include your kit and instruction. Your must register in advance, either by phone, in the shop or on line, so that we can plan the kits.

Also new is the Featherweight Club! The first meeting will be an organizational one, on Monday, January 28 at 1 pm. Please come with your ideas for what you want to do in this group. Lots of us have acquired these charming little machines, and the more we know about them, the more we will love them! We are proposing the 4th Monday as our meeting date, but that could change based on majority interest, so even if you can not make it, please let us know you are interested and what days you could meet. The initial meeting will also be hands on - making a scissor holder with the featherweights!

New for the Westalee Ruler classes is the Continuum Quilt. This is made using the Quilt In A Bag templates, and will run for 6 months, beginning Monday, January 21. Several people have been asking for this one - it is a lovely quilt. We are also offering the Sampler Block of the Month classes again, starting January 9, and running for 6 months. This class uses the Westalee Sampler Set, and you will learn to use those rulers, as well as the 12" arc ruler, in a wide variety of ways. We will talk about how to create your own designs and of course, how to finish these quilt as you go pieces in both BOMs. These require you to take the Basic Westalee Ruler Class as a prerequisite. That class will be offered again Monday, January 7.

BERNINA Academy TAME THAT TECHNIQUE Course is on the calendar!!! May 21 & 22. Join our team of experts and learn how to successfully stitch professional techniques like piping, zippers, Spanish hemstitching, couching, fringe, and more! Learn practical and decorative techniques and discover ways to make sewing easier using proper feet, stitches, and features of BERNINA machines for precise sewing. Our Presenter is Shelly Fitzgerald. The fee includes lunch both days and plenty of snacks and prizes! Plus, you will get to use top-of-the-line Bernina machines and purchase at a dramatic discount.

MASTERY OFFERING DURING THE WEEK (February & March 6th - Wednesdays)
Several have stated they work weekends and have religious obligations on Saturday so we are offering Mastery during the week. Please sign up on line or call in to sign up. We will cancel if we do not have participation. If this day is not good for you, please let us know.

Judy Niemeyer Beginner Class - Your choice of Fractured Paintbox or Fractured Star

OPEN SEW DAYS W/ POT LUCK! January's date is the 8th (Tues) and we are having a soup sharing day! I've moved the Open Sew Days all around the calendar and days of the week so that everyone has several chances to attend! (All dates and themes are in the classes/clubs section of the web site or go to the calendar and click on the box and it will take you to the listing!)

REMEMBER – THERE MUST BE 3 ATTENDEES FOR A CLASSES TO MAKE OR THE CLASS WILL BE CANCELED. Call the shop if you have questions or need help with sign up! 501-318-2739 The full year calendar is on the web! If you click
CALENDAR - JANUARY




1/1 - Closed for New Year's Day
1/3 - Knubees (10-12)
1/5 - Mastery (Workbook 3 - Embroidery)
1/7 - Bee Sew Happy (10-12)
1/7 - Beginner Ruler (Westalee) (1-3:30)
1/8 - Open Sew Pot Luck - Soup Sharing Day
1/9 - Westalee Sampler Block of the Month (BOM) 1st Class 10:30-3:30
1/11, 18, 25 - Beginner Quilting (Friday afternoons 1-4)
1/12 - Anita Goodesign Session 3 (Nursery Rhymes)
1/14 - Judy Niemeyer Sew Day
1/15 - Embroidery Training (Piecing in the Hoop)
1/16 - CFA (1:30)
1/17 - S&B (10-12)
1/18, 25 - Beginner Quilting (Friday afternoons 1-4)
1/19 - Serger Club Organizational Meeting 12:30 - 3:30 with class project. Sign up required.
1/21 - Westalee Continuum Quilt Block of the Month 1st Session (1-3:30)
1/23 - Ficklesticks with Bonnie Kastler (1-4)
1/25 - Beginner Quilting (Friday afternoons 1-4)
1/26 - Charity Sew Day (Children in Long Term Care) Pot Luck
1/28 - Featherweight Club Organizational Meeting & Project. Sign up required. (10:30 to 2:00)

Our on-line calendar can be printed with the button at the right of the month view.
Keep Checking the Calendar for more fun stuff! The full year is not complete yet!
HELPFUL HINTS!
This is our web page link, thank you for letting me know you did not have the link! Go to the Calendar Header and you will find the calendar month by month. Underneath it on the right is a printer button. It can be printed!
On the newsletter tab you can now go to all archived newsletters and read past issues – in case you missed them!
COME SEE US AT HICKORY HILL