HAPPY NEW YEAR! NO CLASS TODAY!!!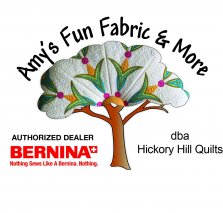 NO CLASS TODAY!!!
WE SET UP THE BLOCK OF THE MONTH AS A CLASS SO PEOPLE COULD SIGN UP ON LINE. THE SYSTEM GENERATES A CLASS REMINDER. THIS BOM FOR CHILDREN IN LONG TERM CARE HAS NO MEETINGS EXCEPT FOR CHARITY SEW DAYS ON 4TH SATURDAY. PLEASE DISREGARD THE E-MAIL. MY APOLOGIES!!!
20% OFF SALE ON EVERYTHING IN THE HOUSE THROUGH JANUARY 12TH. IN STOCK ITEMS ONLY - EXCLUDES MACHINES AND FURNITURE.
50% OFF ORIGINAL PRICE EVERYTHING IN THE SALES NOOK!
COME SEE US AT HICKORY HILL.