Welcome February and Lots of New Classes!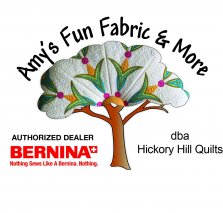 NEW CLASSES ADDED!!!
Promotions-Sales-Information
THANK YOU!!!
What a great sale to kick off the year! We closed out a lot of bolts from the sale room and let me assure you that we have filled it back up! A full side of batiks!

The last Anniversary Edition Gold Machine with the $3,600 give away bundle from Bernina is on the floor! It is a 790+ machine and it is a great deal!

I also have two 820's in great condition for $1,200 each! Remember you get a BSR valued at $1,000 with those so I am basically only getting $200 for the machine!

I also have a demo priced 790 for $8,000! Great deal! I have the upgrade and a really nice embroidery collection to help it go out the door.
CLASS ADDED TO OUR ALREADY ROBUST SCHEDULE!!!
KIMBERBELL BENCH BUDDIES: Remember those bench pillows/wall hangings? Now they've introduced small "buddy" pillows to put on your bench with the big pillow or hanging. It is a cute one day project and Sharon Harrold will be teaching through the monthly projects. We are getting started a little late, so February for Valentine's Day is the first February 5th. This full day class is $25 and we will kit it because there are lots of small fabrics, vinyl, etc. Please sign up early to guarantee we have enough kits. The picture is on line. NOTE: The pattern covers 4 months of projects, so we priced the class separately, as usual.

MASTERY CLASS ON

WEEKDAYS

! March 6 & April 3!

There have been at least two ladies tell us they have weekend obligations and can not make mastery on the weekend. We will offer Mastery in March and April for folks needing weekday classes. If anyone has an embroidery machine, we will add a class in May for the 3rd session

. Please sign up early so we know how to plan teaching staff.



OPEN SEW DAY W/ POT LUCK! February 11th! Chili (I'll make a pot, you bring the fixin's! Somebody please bring onion! (Cheese, cornbread, etc.)
Serger Club 3rd Saturday! February 16th! $5 each class and they are working through a book I picked up at Fall Market called "Power Serge". We have them in the shop and can special order them if we run out. Sign up online. We had 9 in our first organizational session and many more interested! Gonna be a great group!
Featherweight Club Exploded! 4th Monday! February 25! There was a full house in our first session and about 21 in the club to date! We will try to communicate with you separately rather than using the newsletter, so everyone is not trying to keep up with you guys! February's session is on how to clean and maintain your machine. They are getting together pricing on "cleaning kits" for the featherweights and will be communicating that out once they have that information. You will need to let the shop know that you want a kit. ($20 to join and $5 / session after that.)

Embroidery Training-Anita Gooddesign Chameleon Purse - TOO CUTE! 3rd Tuesday! February 19 & March 19! This class will cover two months. The inside of the purse will be done in Feb and the outer shell will be done in March. I can't tell you how cool this project is! Stop by and see it or look it up on line.

Charity Sew/Pot Luck Day! 4th Saturday! February 23! We have 52 ladies signed up for our Children In Long Term Care block of the month! I'm so excited and thankful for all you do for our community. We had 9 ladies come to sew for our first session in January, but we agreed that if more than 15 show up, it may be chaos! Especially, if all 15 people bring food! Sooo, we decided that we will do sign ups (online like a class) for charity sew days. They are free, but at least we will know how many to expect. Judith Jones will be bringing Lasagna in Feb and has asked that others bring complimentary dishes. We will try to let folks know how many we have and maybe only the first 10 bring and then others can bring the next time???? We will work it out. The day was so much fun! I hope you will plan to join us.

SPICY SPIRAL TABLE RUNNER! February 26 & 27 half days! This class takes 8 fat quarters, light to dark. The first half day is putting together the fabric in stratas. If you have no experience in strata work, this is a great class to learn about managing fabric. The second day is experience with a 10 degree ruler. Click on the calendar to see the photos and we have a sample in the shop!

Judy Niemeyer Sew Day on February 26 -

FRACTURED STAR OR FRACTURED PAINTBOX - QUILTWORX PAPER PIECING 2-day beginner level class! February 28 & March 28! These two quilts (you can choose which one to work on) exhibit the stained glass technique. Fractured star takes one jelly roll and background fabric! If you have every wanted to make one of these gorgeous quilts, come join us! Judy Bowers won a blue ribbon with the Star at the Benton Show this past year.

YOU ASKED FOR IT AND WE ARE GETTING IT TO YOU - ELEPHANT ABSTRACTION OR "ELLIE" IS HERE! March 30th! This class covers how to make that gorgeous elephant you have seen in the shop! This one day class will get you started doing easy paper piecing. Pre-Class work is required, so sign up early. I think most of you have the pattern, but if you don't we keep them in the shop.

Hint - on the calendar tab on our web site, hit the box and it will take you to the class signup. There is also a print button on the calendar. Things change, so stay tuned!

REMEMBER – THERE MUST BE 3 ATTENDEES FOR A CLASS TO MAKE, OR THE CLASS WILL BE CANCELED. Call the shop if you have questions or need help with sign up! 501-318-2739 The full year calendar is on the web! If you click


TEASER
The Northcott Stonehenge competition fabric is in house! Once our block is kitted, we will announce the competition!
I'm so excited!
CALENDAR - FEBRUARY
2/1, 8, 15, 22 (Fridays) Beginner Machine Quilting Continued
2/2 – Mastery Class (First Workbook Session! - Starting Over)
2/5 – Kimberbell Bench Buddies (Valentine Heart Pillow)
2/9 – Final Anita Goodesign Quilt Class
2/11 – Open Sew Day & Pot Luck (Chili)
2/13 – Westalee Sampler Continued
2/16 – Serger Club see above
2/18 – Westalee Continuum BOM Continued
2/19 – Embroidery Training - Anita Goodesign Chameleon Purse (Above)
2/23 – Charity Sew Day - See Above
2/25 – Featherweight Club (Sign Up Required, Cleaning Kit Optional)
2/26 – Judy Niemeyer/Quiltworx Sew Day with Judy Bowers

2/2 – Judy Niemeyer/Quiltworx Fractured Star/Paintbox with Judy Bowers
Keep Checking the Calendar for more fun stuff! The full year is populated!
HELPFUL HINTS!
This is our web page link, thank you for letting me know you did not have the link! Go to the Calendar Header and you will find the calendar month by month. Underneath it on the right is a printer button. It can be printed!
On the newsletter tab you can now go to all archived newsletters and read past issues – in case you missed them!
COME SEE US AT HICKORY HILL