Skip Navigation
Website Accessibility
HAPPY MOTHER'S DAY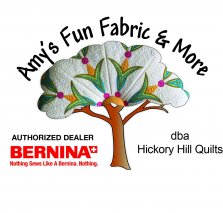 HAPPY MOTHER'S DAY!!!
Promotions-Sales-Information
MOTHER'S DAY SPECIALS!!!
Bernina has opened up a 60 month financing offer now through Monday!! Any machine - new or used $3,000 and up!
Hickory Hill is offering all mothers 30% off (regular price) any single cut or notion in the store! Don't forget to let your family know that a gift certificate from Hickory Hill is what you want for Mother's Day!
Classes Added:

FOR MOTHERS AND GRANDMOTHERS! Heirloom's Dresses and Smocking!
This will be two one-day classes. (July 12 & 13) Lenice Garrison of Little Rock has a lifetime of sewing to share and is anxious to teach her passions! The first day will be making/creating the garment. This will be a dress. The second day will be the actual smocking class on the garment you made the day before OR she will make the garment for you and teach you to smock in which case you will purchase the garment from her. She has batiste in pale yellow and mint greet plus a few other colors, though not in bulk. Each day will be $30. Sewww something new at the shop.

Lenice will also be teaching fabric crafted bowls July 26! Sign up early - You have been asking for this class!

Free Motion Quilting - With (5/23) and Without (5/24)Rulers! Michelle will once again be teaching free motion quilting for beginners both with and without rulers. Many of you have said you missed out! This is a prerequisite to all her follow on classes.

The free motion Westalee Rulers class (May 23 from 1-3:30) is for anyone new to free motion quilting or new to using rulers and templates to assist in free motion quilting. It requires a special ruler foot that may have to be ordered for your machine and a special set of starter rulers. Be sure to sign up early enough so that we can be confident we will have the correct products on hand for you.

The free motion class without rulers (May 24 from 12:15 - 3:30) will be teaching use of BSR's and simple freehand / free motion quilting and is for anyone that has ever considered quilting your own tops on your domestic machine. Maybe both these classes are for you!

Bindings (May 29th from 1-3:30) will be for anyone who needs binding help! If you aren't completely confident that your quilt bindings are as perfect as they should be, you will learn a lot in this class. Anyone who has ever taken Michelle's Beginning Machine Quilting Class can get a $10 discount on this class as a refresher. Mention it when you sign up for the class so that we can give you the discount. This will have to be done in the office or on the phone since we can't apply it to on-line sales!

Embroidery Training - May 14th! Moved up a week due to Bernina Academy! We will be starting an In The Hoop Embroidery Quilt in Embroidery Training. We have chosen the Double Wedding Ring by Anita Gooddesign. We have a block sample in Red & Black in the entry at the shop - more to come. There are several versions of the quilt to choose from. This will be more of a work along quilt for the next few months. The first session will be the normal $25 and after that it will be $5/session till most attendees are confident of the techniques. The pattern is $69.95! Please call the shop to sign up and order your pattern. It will be sent to you as a download from Anita Goodesign.

Tuffets Class June 25 & 26! If you are interested in taking the class, you need to sign up so we can get the kits ordered. We don't have additional kits in stock.
REMEMBER – There must be 3 attendees for a class to make or the class will be cancelled or rescheduled. Call the shop if you have questions or need help with sign up! 501-318-2739
CALENDAR - MAY
We are actively adding classes,
please check the calendar on line often!

5/10 – TODAY! Open Sew Pot Luck - Mexican Theme (I left Tamalies!, so bring a main if you like!)
5/11 & 18 – Serger Club is CANCELED - No one signed up

5/13 – Westalee Continuum
5/14 – Embroidery Training moved here from 5/21 due to Bernina Academy Conflict.

5/15 - CFA

5/16 - S&B

5/21 & 22 – BERNINA ACADEMY II - TAME THAT TECHNIQUE - We still heed signups for this two-day, fun filled class!

5/23 – Beginner Free Motion Quilting – with Westalee Rulers – Exposure Level Only

5/24 – Beginner Free Motion Quilting - without Rulers - Use of BSR's and Freehand Quilting
5/25 – Charity Sew Pot Luck Will Not be canceled for Memorial Day Weekend. We will sew with those showing up!
5/27 – CLOSED FOR MEMORIAL DAY! Thank You For Your Service!

5/28 - Featherweight Club Meeting for May (alternate date due to Memorial Day Closure)

5/29 - Bindings with Michelle Jones! See information and discounts below.

5/30 - 31 - Bionic Bag Class - Intermediate Skill Level with Sharon and Barbara - This download pattern is challenging and fun and you will learn many new techniques!
--------------------------
June/July Highlights!

6/5 - Quilt As You Go Table Runner (Crossroads is the pattern from Featherweight Club! It was so popular we are going to open it up to everyone! Come learn to quilt as you go! Sample in the entry.)

June - Open Sew Pot Luck moved of June 29 - It will be Hogie Day! Come join in the fun! Bring any project - hand or machine and spend the day at Hickory Hill!

6/15 - Serger Club

6/25 & 26 - Tuffets – Those adorable foot stools! Sign Up Now so we can get kits ordered ahead of the training date! There is a teaching fee, the tuffet kit and pattern.

ALL NEW CLASSES:
7/12 Heirloom Dresses
7/13 Smocking
7/26 Fabric Crafted Bowles

We have a new block of the month launching soon! It is going to be SEW MUCH FUN! It will be a one time teaching session and maybe a make up, but a traditional BOM where you purchase part of your kit monthly and work on pieces along with friends!


Keep reviewing the On Line Calendar for more fun stuff!
Other News
Check us out on Instagram! All new fabrics are being posted there and on Facebook. Like and follow us on Facebook! On Line Sales are up and running! New signs are on the way! Stay tuned for our Second Anniversay Sale June 1st!
HELPFUL HINTS!
Go to the Calendar Header to find the calendar month by month. Underneath it on the right is a printer button. It can be printed!
On the newsletter tab are all archived newsletters – in case you need to review!!
COME SEE US AT HICKORY HILL